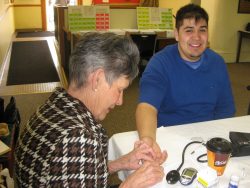 Why do nurses do what they do? As many reasons as there are nurses, but this week we were again reminded of why the River Valley Health Services exists. Not only are we a place for our families to come but also a place where nursing leadership is exemplified.
Last Monday a mom, new to Minnesota, brought her 5 year-old son in to have sutures looked at and removed. A very happy little boy at first, he became very apprehensive as his mom walked him into the nurse's office. He reluctantly "helped" clean his leg and remained distracted enough to allow the sutures to be removed. Loud cries and many "no's" but finally complete. He jumped up, gave us a big "high five" and left with books and color crayons.
Today mom came back with her son, who, when he saw the nurse in the parking lot, jumped out of the van and offered another "high five". He wanted to come back and see his "other gramma" his mom said.
That's why we do what we do!