Join River Valley Health Services, at Chaska or Shakopee Community Center for a free and guided six-week Walk With Ease program.
River Valley Health Services' leaders will guide the six-week "Walk With Ease" program. Our program leaders have completed the AFAA (Athletics and Fitness Associations of America) Arthritis Foundation: "Walk with Ease" Course.
April 26th Wednesday
Shakopee Community Center
12-1 PM running for six weeks
April 27th Thursday
Chaska Community Center
11-12 AM running for six weeks
Únete a River Valley Health Services en el Centro Comunitario de Chaska o Shakopee para participar en un programa gratuito y guiado de seis semanas llamado "Camine con gusto".
Los líderes de River Valley Health Services guiarán el programa de seis semanas "Camine con gusto". Nuestros líderes del programa han completado el curso "Camine con gusto" de la Fundación de Artritis de AFAA (Asociación de Atletismo y Fitness de América).
Miércoles 26 de abril
Centro Comunitario de Shakopee
De 12 a 1 PM durante seis semanas
Jueves 27 de abril
Centro Comunitario de Chaska
De 11 a 12 PM durante seis semanas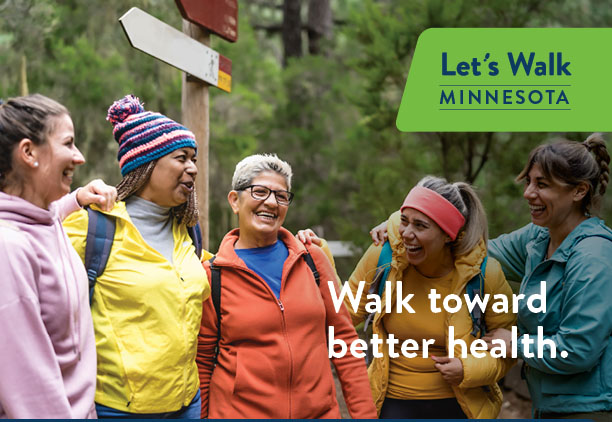 Join Walk with Ease, the Arthritis Foundation's doctor-recommended program that is proven to reduce pain while improving your overall health.
The six-week program provides motivation and tips to safely make walking a part of your everyday life. If you can be on your feet for 10 minutes, this program is for you—even if you use a walker, cane or other aid. Walk with Ease can help you:
Reduce joint pain
Feel great while getting in shape
Learn how to walk safely, comfortably, and at your own pace
Increase balance, strength, and stamina
Learn stretching and strengthening exercises
Únete a Walk with Ease, el programa recomendado por médicos de la Fundación de Artritis que ha demostrado reducir el dolor mientras mejora tu salud en general.
El programa de seis semanas brinda motivación y consejos para incorporar caminar de manera segura en tu vida cotidiana. Si puedes estar de pie durante 10 minutos, este programa es para ti, incluso si usas un andador, bastón u otro tipo de ayuda. Walk with Ease puede ayudarte a:
Reducir el dolor en las articulaciones
Sentirte genial mientras te pones en forma
Aprender a caminar de manera segura, cómoda y a tu propio ritmo
Aumentar el equilibrio, la fuerza y la resistencia
Aprender ejercicios de estiramiento y fortalecimiento.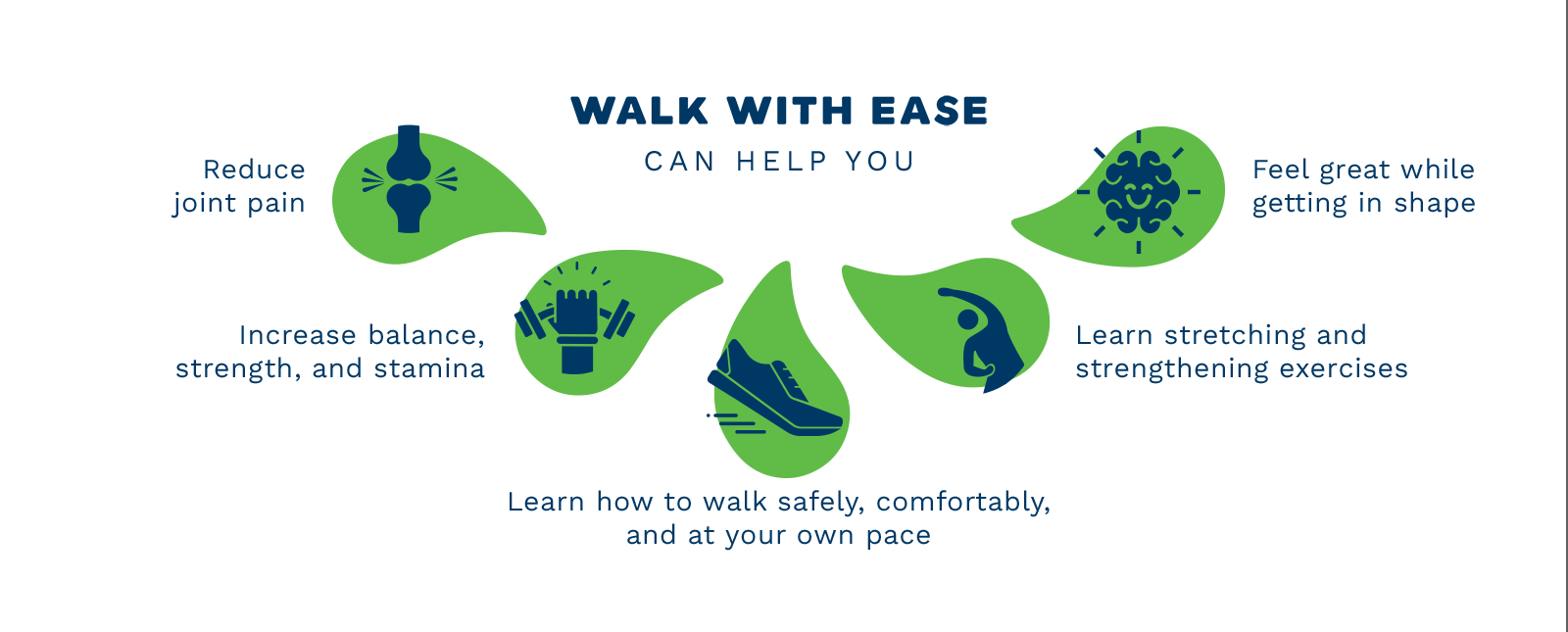 How do I join the Walk with Ease Program? Where can I go for help with my arthritis questions?
¿Cómo me uno al Programa Camine con gusto? ¿Dónde puedo obtener ayuda con mis preguntas sobre artritis?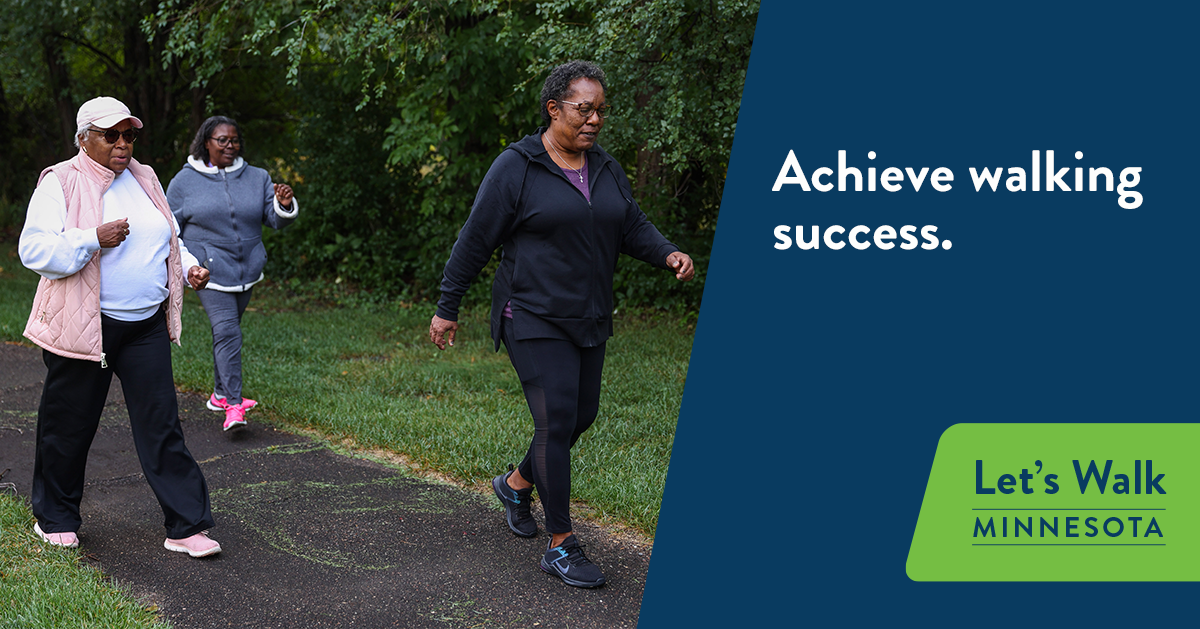 4 Tips To Be Successful at walking
Choose different places to walk to keep it interesting. Find all the parks in your area and make a plan to visit each one. With 10,000 lakes to choose from, there is probably one nearby. Choose a different neighborhood or walk around a school track or ball field.
Walking with someone makes time fly, helps you feel safe and helps you stay committed. Ask a friend, coworker or family to walk with you. Look for a local walking group. And don't forget that a furry friend counts as a buddy.
Pin a calendar up or write in your walking diary and write down your walking minutes. Tracking your walking helps you stay focused and see your progress. Some people find it rewarding to write down what they have accomplished. You can also write down what things are helping you to keep walking.
Schedule a time each day to walk. Having a scheduled time helps you to be successful. Is it raining, too hot, or cold? Look for other places to walk. Many malls, grocery stores, big box stores and schools allow you to walk indoors, or march in place at home. Feeling achy or tired? Take a shorter walk.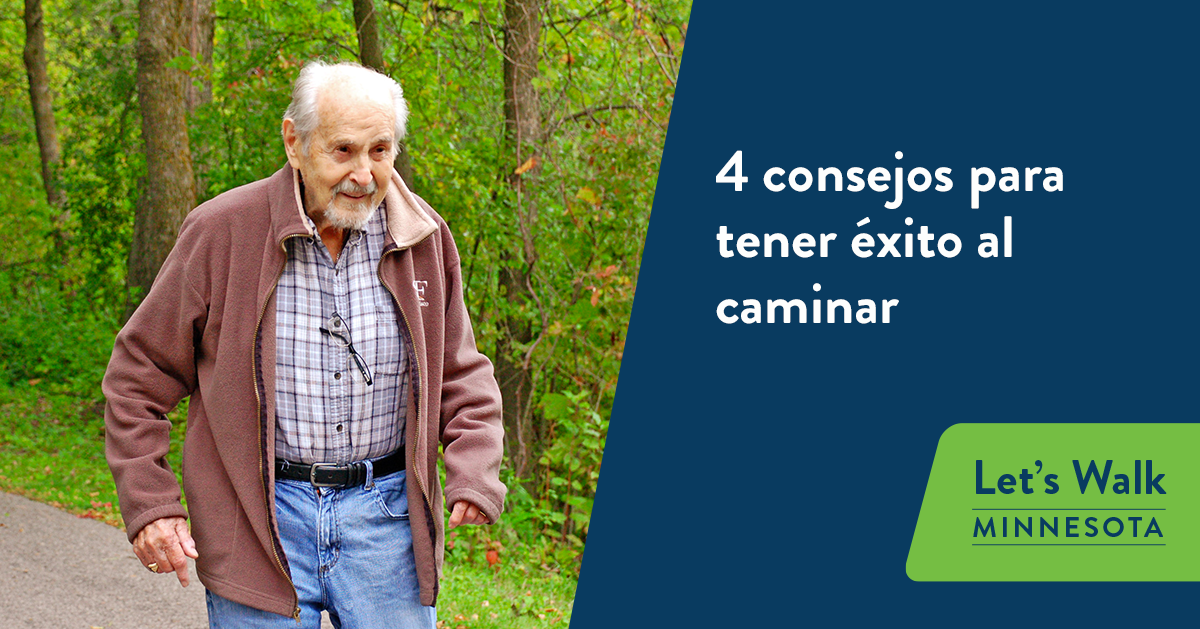 4 consejos para tener éxito al caminar
Elige diferentes lugares para caminar y mantenerlo interesante. Encuentra todos los parques en tu área y planea visitar cada uno de ellos. Con 10,000 lagos para elegir, probablemente haya uno cerca. Elige un vecindario diferente o camina alrededor de una pista escolar o campo de pelota.
Caminar con alguien hace que el tiempo pase rápido, te ayuda a sentirte seguro y te permite mantenerte comprometido. Pide a un amigo, compañero de trabajo o familiar que camine contigo. Busca un grupo local de caminantes. Y no olvides que un amigo peludo también cuenta como compañero.
Lleva un registro de tu progreso.
Coloca un calendario o escribe en tu diario de caminatas y anota tus minutos de caminata. Llevar un registro de tus caminatas te ayuda a mantenerte enfocado y ver tu progreso. A algunas personas les resulta gratificante escribir lo que han logrado. También puedes anotar qué cosas te están ayudando a seguir caminando.
Planifica con anticipación para tener éxito.
Programa un horario cada día para caminar. Tener un horario establecido te ayuda a tener éxito. ¿Está lloviendo, hace mucho calor o frío? Busca otros lugares para caminar. Muchos centros comerciales, supermercados, tiendas grandes y escuelas te permiten caminar en interiores o marchar en el lugar en casa. ¿Te sientes adolorido o cansado? Haz una caminata más corta.
Literature and Video Links
Movement is the best medicine. But moving can be difficult when your joints hurt. Check out, "Your Exercise Solution (YES)," a resource to help you create a physical activity routine — based on your specific needs and ability level — with modifications developed and approved by physical therapists.
Arthritis Foundation
Exercise Videos
Use the library of YES exercise videos on the Arthritis Foundation's YouTube channel to create customized, safe and effective workouts with joint-specific modifications developed and approved by physical therapists.